So today I have a lot of stuff to share with you. Unfortunately, it's not going to be a recipe.
I have been amazingly lucky within the last couple of months and would like to share my bounty with you. I hope this doesn't seem like I'm showing off or anything, I just want you all to know about the amazing people who are out there and the wonderful gifts I've received from them!
First we are going to start with winnings.
Mrs. M over at
In The Military and On the Move
hosted a giveaway a while back. I honestly didn't think I had a chance of winning because I didn't have the answer to the question she asked. But, I replied and wished her other readers luck. Well, wouldn't you know that I won anyway! That was the first thing I had ever won on a giveaway like that and I was beyond thrilled. So this is what I got:
I got this bowl! It is Polish pottery and traveled all the way from Germany to reside in my home!
This is my first piece of Polish pottery. Isn't it lovely??
Next up!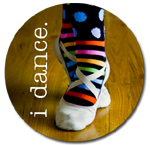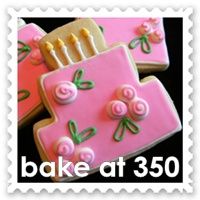 Molly over at
i dance.
was hosting a giveaway for cookies from none other than the brilliant Bridget of
Bake at 350
. And guess who happened to win?!?!?!
Here's how this went...
I received this lovely box with a hand written note.
Then opened the box to the most gorgeous cookies I've ever seen!
I got half a dozen!
Little Butt liked them. She would eat the edges...
Not only were they gorgeous, they were also delicious.
And I should probably admit that I only really got two...someone else got the rest!
Now let's head over here..
Julie at Mommie Cooks hosted a giveaway while she was out of town. I honestly had forgotten about this one and was shocked when she announced I had won! She went on vacation and picked up a couple treats on her travels. This is what she sent me:
Maple apple pie sugar, a maple pepper grinder (yum!) and a Barnes & Noble gift card that I turned into
this book
.
And finally...
Kathia over at
Pink Little Cake
had a CSN Stores giveaway. I actually didn't win this one at first. Someone else did, but she couldn't get a hold of him and he never responded back to the winning post...so it ended up coming to me somehow! The gift card I got there I turned into
this
and
this
.
Are you getting tired yet? I know, I know. I'm sorry! I'm hurrying! But I can't possibly forget to mention one of the greatest gifts I have ever received in my life. This one was not a winning, unless you count the amazing friend I have won on the other end of this gift. See...I met this girl Sarah. She's from
Life is Still Sweet
. Well, she hosts this thing every month for people who have cooked anything from a magazine over the course of the month. Actually, it's going on right now so jump over there! Here's her button: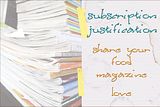 So far, I'm the only person who has linked up on this subscription justification game (hint, hint to all my lovely readers who will go show her some love!). To show her appreciation she sent me this:
Trivets!!! Customized!!!
Aren't they adorable??? How did she know?!?!?! Sarah is seriously amazing and if you haven't checked out her blog, you should.
Actually, every single blog I've mentioned here are absolutely amazing people. I'm so lucky to have been able to come to know them and to have been so blessed to have received so much love.
But you aren't off the hook just yet! Because Julie at Mommie Cooks decided to give me an award too!!! She gave me:
Which I would like to pass on to little Cat of
Rate.Bake.Create
. This girl is so cute. Her reviews are thorough and honest. I always smile whenever I get a comment from her or she posts on her blog.
And last but certainly not least, Memoria over at Mangio da Sola gave me an award too! I didn't even think she knew I existed but there it is. She gave me:
With this I'm supposed to tell you 7 things about myself but I think I've rattled your ears...eyes?? long enough don't you think?? But I would like to pass this one on to Renee over at
Kudos Kitchen By Renee
. This wonderful woman has just embarked on a brand new business. She makes hand painted, customized trivets! She's amazingly talented and has just started a brand new blog as well, but there's so much to it already! Oh! she's also hosting a giveaway of one of her trivets (she'll paint your button or blog header on a trivet if you win) so head over
HERE
. But hurry because the giveaway ends on July 24th!
So thank you so much to everyone who made it to the end of this post! Please go show each other some love because what good are we if we can't support one another???